Take this rare opportunity to hear from an integrated team of fertility professionals, focussing on fertility from a medical, natural and truly holistic perspective. Whether you are trying for your baby naturally, with fertility treatment such as IVF, or are interested in furthering your knowledge as a fertility professional yourself – we would love to speak to you!
How to enhance your fertility by nurturing and nourishing your body, mind, heart and soul.
The importance of Fertility Awareness and essential fertility investigations as part of an holistic approach to pre-conception care.
That the emotional aspect of fertility is more important that simply reducing stress, and how powerful your mindset can be.
How natural support such as nutrition, acupuncture and fertility massage can boost conception success rates, either alone or alongside assisted fertility treatment.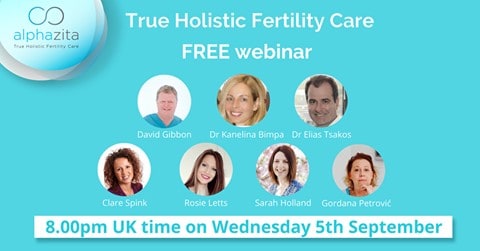 Thank you all for attending our webinar!
For those who didn't make it but still care to learn about fertility from a medical, natural and truly holistic perspective, you can access the recorded version through youtube: https://www.youtube.com/watch?v=LBSn2g0ReUE